LANDSCAPE WITH OUR QUALITY OLIVE TREES!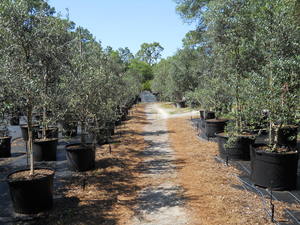 Large inventory of landscape-size olive trees
*GROWING OLIVE TREES IN FLORIDA SINCE 1989

*HIGHEST QUALITY TREES

*LOWEST PRICES
*HONEST ADVICE

*TEXAS AND LOUISIANA CERTIFIED
*OPEN DAILY BY APPOINTMENT

*DEDICATED DELIVERY AVAILABLE
Fruiting olive trees (
Olea europaea
) from 25-gallon to 100-gallon with fruit in season
.
We sell several different cultivated varieties of olive. See our
Varieties
page.
Prices start at $200. Cash and major credit cards accepted.
Discounts for large orders.
MISSION STATEMENT
Our mission is to provide the highest quality olive trees for landscapes and home gardens.
Why Olive Tree Growers?
PROFESSIONAL DELIVERY BY OUR OWN TRUCK AND TRAILER
Best Quality Trees
* Most Experienced and Knowledgeable Growers

* Biggest Selection of Sizes and Varieties