Order Trees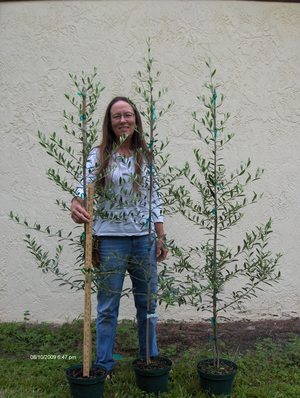 Representative Shippers
The Arbequina trees we ship are at least 4.5 feet tall (planted height) and 2.5 feet wide, well-branched, with a trunk diameter (at 1 inch above ground level) of 3/8 inch to 1/2 inch. These are pruned and well-proportioned trees, shipped well-rooted in their containers.
Other cultivars and sizes are sometimes available for shipping by special order.
Contact us.
Shipping Information
We ship year-round on Mondays for orders received by 6pm on Saturday, unless weather en-route is prohibitive. All online orders are shipped via FedEx. Contact us for delayed shipping or special requests.

Shipping and packaging charge is $25.00 per tree.
We
do not ship trees
to Arizona, California, Alaska or Hawaii.
Order online using the form below or call us at 352-489-0390.


Enter the 'ship to' address in the space below.

You will enter your payment information in a later window.


Online Order Form